Back
January 6, 2023 / CPOVs
CP Abroad With Carla Doyle
Carla Doyle, Account Director, ZOO Digital 
There's no doubt about it, the Irish do love to travel. I wonder, is it something to do with living on a tiny island on the most western, wet and windy part of Europe…hmm? In 2017 I left my job and life in London (after 10 years of living there!) and took a year off to go travelling before setting back at home in Dublin, Ireland in 2018.
I didn't think I'd really get the chance again to spend an extended period of time in another country…..until the CP Abroad programme was announced. As soon as I heard all the details, I knew this was something I definitely wanted to get involved in. Luckily enough, I got a spot on the programme for 2 months in Boston during October and November, aka 'Fall.' There's no doubt about it, 'Fall' is a beautiful time to visit Boston and the wider New England area.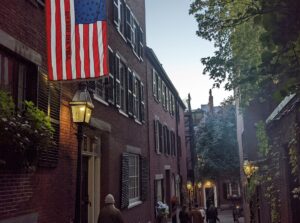 Whilst working in Boston, I was still managing my client accounts back in Ireland – ESB Networks and MyMilkMan.ie. I have to say (and not because this blog will be public!), each of my clients were super supportive and very encouraging of me taking part in the programme. From a work perspective, I adjusted all my client meetings to AM Boston time, which would be afternoon Irish time. So there was no real disruption in my day-to-day management of the accounts. 
I got into a rhythm of always working a half a day ahead of myself. This meant any feedback or new briefs that had to be shared with our creative team in Dublin were ready to go and in their inboxes in the morning, so they could start right away. Then we'd catch up in the afternoon and chat through any questions or comments they had. In fact, at one stage, one of my clients said she felt she was just about getting 24-hour service while I was in Boston! Not bad, eh?!
It was really great to get to know colleagues in CP Boston, as ZOO were still relatively new to the CP family. I had some great conversations with people across Brand, Creative, Strategy, Media and Marketing / PR. For me the biggest benefit from a work perspective, is being able to share ideas. For example, CP colleagues in Boston shared some really interesting and successful case studies around influencer campaigns they managed in Boston. This is something I really want to introduce to some accounts I am working with in Ireland, as the power of the 'influencer' will only continue to grow! Putting names to faces has also been great, and takes the initial awkwardness out of contacting someone you've never met before. I'd have no qualms now contacting anyone in Boston for a chat, work or social!
There was also time for exploring Boston and some travel too. It wasn't all work, work, work! I enjoyed some amazing Italian food in the North End, saw the Celtics play, visited the MFA and Isabella Stewart Gardner museums, saw the historic Head of the Charles Boat Race and of course experienced Halloween in Boston which was amazing!! I flew to Washington DC for a long weekend. So much history and so many free museums and galleries to visit! I spent a weekend up in Portland, Maine and gorged myself on delicious seafood and lobster rolls. #NoRegrets
I look forward to welcoming colleagues from CP Boston and VRX to Dublin, and showing them around our city! So….when can I apply again?!