Back
April 12, 2023 / CPOVs
CP Abroad With Lee Junkin
Lee Junkin, Platform Media Supervisor
When I was in college, everyone used to say that if you can study abroad, you need to do it because you may never get the chance again. Well, as a 28-year-old adult, I was lucky enough to be provided with that opportunity a second time when Connelly Partners launched their CP Abroad program. So, in late February I set off for my month of working in Dublin – after making a quick pit stop in Chamonix, France to get a few days of skiing in as the winter began to fade away.
One of the things that struck me when I first arrived in the Dublin office is that my coworkers, who I had previously known almost entirely through Zoom and Slack, were so welcoming and passionate about sharing their culture. Almost immediately after being shown to my desk, I was hit with a flood of recommendations for restaurants, pubs (a lot of pubs), hikes, and any other experience in Ireland you can think of. It's overwhelming to try to experience as much as you can in a new country in just a month, but with the help of my coworkers, I was able to make a pretty good plan for appreciating Dublin life. 
It being March, I was able to experience an Irish St. Patrick's Day, which is a national holiday in Ireland. The parade was beautiful and the crowds were massive. People from all over the world poured into the streets wearing green hats and Guinness shirts. By the way, make sure you call it St. Paddy's Day and not St. Patty's Day – Americans often come over and use the more Anglicized spelling to the dismay of Irish residents. 
After St. Paddy's, I explored the incredible Dingle Peninsula, driving over Conor Pass before eating seafood chowder with a Guinness in the quaint seaside Dingle pubs as Ireland beat England in the Six Nations rugby tournament. I also explored the beautiful Cliffs of Moher as well as Galway City.
Ireland may be an island, but plane fare in Europe is much different than in the U.S., making Dublin Airport a gateway to other cultures and languages just a few hours away. Over the course of a few weekends, I flew to Soria, Spain to reconnect with my host family from my college abroad experience, explored castles in Edinburgh and took a cruise on Lake Loch Ness, sipped coffee by the brightly painted houses in Copenhagen, and toured and learned about the complicated history of the city of Belfast.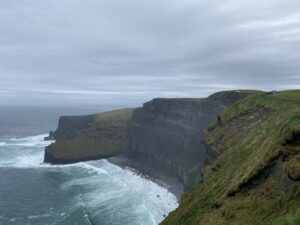 Overall, I learned that while every culture has its slight differences – pronunciations and slang, cuisines, and lunch break standards (the Irish office is better at eating lunches together while Americans often eat at their desks) – there are many universal human truths that we all share. People everywhere are generally welcoming and excited to share pieces of their culture. People like to have fun and try new foods and keep eating the foods that they already love. Whether it's baseball or Gaelic football, everyone loves to go to a game with their friends. The advertising industry certainly has some nuances across different countries (my position as a programmatic media buyer is not a big thing in Ireland), but in any culture, humans like to do the things they love, and part of our job as advertisers is to help humans enjoy those things.
CP Abroad provided me with a better understanding of my fellow humans and helped me grow as a person, but maybe more importantly, it was an incredibly fun experience that I will never forget.