Back
April 3, 2023 / CPOVs
CP Abroad With Aoife Davis
Aoife Davis, Art Director, ZOO Digital
Like many other city dwellers during the pandemic, I packed up my life in Dublin and moved to the countryside. I landed in Westport, Co.Mayo, a small town in the west of Ireland on the wild Atlantic coast. Pandemic aside, the urge to seek out adventure and a new way of working/living was the driver above all else, something I believe is inherent to Irish people. 
As the world started opening back up, the urge to travel again and reconnect with colleagues in person was strong, especially as ZOO was still so new to the Connelly Partners family. In the past, I never got around to pursuing a US Graduate Visa after finishing university, giving Irish graduates the opportunity to live and work in the US for up to one year. I thought the opportunity had passed me by, until the CP Abroad Programme was announced. Instantly, I knew this was something I had to apply for.
Visiting Boston in February and March seemed like a wild move for someone who doesn't own a pair of snow boots, so landing in the North End at the beginning of February to 16C (60F) temperatures was an unexpected surprise. I spent my first evening watching the sunset on the rooftop of the new company condo, taking in the Boston skyline and waterfront. As my body clock was still adjusting, I was a constant rooftop feature, catching some incredible winter sunrises over the next few days, while also getting familiar with the Italian North End and Downtown Boston.
My working day started slightly earlier than usual, so I could catch the Dublin team before they went on lunch. My Irish clients took precedence and I continued to work on ongoing campaigns and new business tenders, taking calls earlier in the day and making sure Friday close of business deadlines for Dublin were met at lunchtime Boston time. Getting an in-person introduction to one of the Boston clients was hugely beneficial, as ZOO and CP work together on a few accounts. Conversations with the brand team led to valuable insights gained from a Visit Williamsburg case study, proving insightful for our recent Irish tourism tenders. Meetings with the creative team sparked interesting ideas on how best to integrate our teams and spot opportunities for collaboration. Working with the strategy team helped ZOO build a strong research case for a new Irish spirit client.
I was delighted to be in Boston for Women's History Month, attending an International Women's Day event organised by The Ireland Funds, with my CP Boston colleague Niamh Marshall. This included an evening of talks with US Attorney, Rachael Splaine Rollins, and Executive Director of the Red Sox Foundation, Rebekah Splaine Salwasser, sisters of Irish descent with roots in Co.Mayo. Rachael and Rebekah spoke so wholeheartedly about their connection to Ireland, their career successes and how their work continues to push through the glass ceiling. It was great building connections with the Boston Irish on the night and witnessing how celebrated and supported the community is. 
I took in my fair share of Boston art museums, visiting the Institute of Contemporary Art, the Museum of Fine Arts, the Harvard Art Museum and the Isabella Stewart Gardner Museum (twice). The courtyard flower arrangements are changed every few weeks – an exhibition in itself. I visited the Boston Tea Party Museum, caught a concert at Boston Symphony Hall, walked the Freedom Trail from Boston Common to Bunker Hill and sailed on a Boston City Cruise. I took weekend trips to Salem, Portland, Maine, Providence, Rhode Island and fulfilled an American dream at Modern Diner, Pawtucket, the only known surviving streamliner diner still in operation. I still think about the custard french toast! I spent a few days in NYC, exploring Manhattan & Brooklyn and spent St. Patrick's Day at the Southie parade, which was an experience not to forget.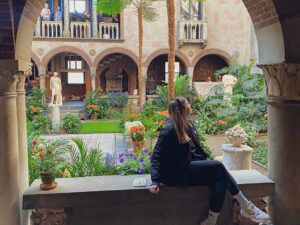 Spending time in the Boston office and seeing Connelly Partners land the 2023 AdAge A-List award for Best Agency Culture, firmly reinstates our combined, cross-agency, human-centric values. Getting out of my comfort zone, finding new sources of inspiration, building new connections and adventuring while exploring new ways of working/living has been an invaluable experience. Documenting my time through film photography has also inspired a personal print project which I hope to work on over the next few months. 
So put it this way, that urge for adventure I've had for the last while, was certainly achieved by taking part in CP Abroad and getting to do it as part of my job was a major plus. Thanks, ZOO and Connelly Partners for the opportunity.