Back
March 7, 2023 / Thought Leadership
Reflections From Our Global Women Leaders
International Women's Day is a time to celebrate the many achievements of women throughout history and bring awareness to inequalities that still exist today. In recognition of this important, global holiday, we asked some of our female leaders from across the CP family of offices to reflect and respond to a question about their accomplishments, influences, and the impact they've had on their peers as women in leadership. 
How do you hope to have been an influential figure to your peers?
To be creative, you have to appreciate all perspectives and unique voices. I'd like to think I've encouraged people to show up authentically and without pretense. I strive to create a space for each voice to be heard and ideas to surface without judgment, allowing them to breathe and evolve into something unexpected. I would hope that I've set an example that in order to be a successful creative leader, you need to be equal parts challenger and nurturer. I'll continue to set high expectations but navigate the process with kindness. It's a tough but necessary balance.
Alyssa Toro
Sr. Partner & Chief Creative Officer
Boston
---
What accomplishment are you most proud of as a professional?
I am really proud that I successfully switched careers three times over the past 25 years. I pursued my dreams and was not afraid not to follow the conventional career path, although my passion for marketing and advertising was always part of those careers.
It took a massive leap of faith, and self-belief, to leave a very well-paid job with Ireland's largest TV, radio & online platform, fulfilling a dream to open my own business. Not choosing the safe route taught me that if you have a good work ethic, are resilient, persistent and are prepared to put everything into making a decision a success, there is no reason not to succeed.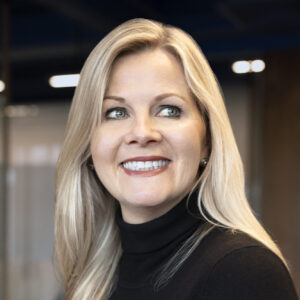 Vaunnie McDermott
Managing Director, Connelly Partners Dublin
Dublin
---
What is something you are grateful for as a woman in business?
I'm grateful for the team of amazing, diverse women that I am blessed to be a part of – mentors who have helped me grow over the years; peers who have developed through similar trajectories as I have, balancing years of raising children with also managing a career; and most importantly, my younger colleagues, who have risen through a very different set of circumstances in college and their young careers that constantly challenge me to think and do things differently. I learn from this group every day – and it's both humbling and inspiring – and makes me always aware of the impact we have on each other in this business. 
Michelle Capasso
Partner & Director of Media Services
Boston
---
In your opinion, who is the most influential female professional/historical figure and why?
Michelle Obama has used her platform to make people feel seen and heard. With an eye toward our industry, I'm inspired by how she's used entertainment and storytelling to broach challenging topics and make them approachable while also elevating diverse voices and perspectives. As a new mom, I appreciate how she's balanced her work and family life – and kept it incredibly real about what that looks like, even if it's not always rosy.
Claire Eisenberg
Director of Corporate Communications
Boston
---
The 2023 theme of International Women's Day is #EmbraceEquity. In the spirit of this theme, what does this mean to you? How do you embrace equity?
For giggles, I asked Chat GPT what it means to EmbraceEquity — this is what I got:
"Embracing equity means recognizing and actively working to eliminate systemic barriers and injustices that prevent individuals or groups from accessing opportunities and resources fairly."
This is eerily accurate, considering that it was generated by an AI Chatbot.
But in all seriousness, this is close to what it means to me to Embrace Equity, as evidenced by my financial and physical support of the YWCA. I'm on the Board of Directors of the Delaware affiliate and have been a long-time leadership donor. This organization truly embodies my passions in its mission: To empower women and eliminate racism. 
To me, Embracing Equity also means recognizing, celebrating and embracing all of the differences, life experiences, cultures, food, music, histories and traditions of all of those around me, and seeing what I can learn as a result. 
Michele Hart-Henry
Managing Director, Connelly Partners Health
Boston
---
What is one thing you hope to do to help advance women in your lifetime?
I hope to help demolish cultures of overworking & burnout. Traditionally, the choice or the desire to have a work/family/life balance has been viewed (in particular for women) as a choice that holds them back. The problem is not the choice to prioritize balance, but the cultures of overworking and burnout that make this choice necessary. I hope in some small way, in my own circles and organizations, to be able to create and nurture environments where these choices aren't necessary.
Emily Kozniuk
Director of Brand Services, VRX Studios
Vancouver
---
What is one small way you are showing your support and appreciation for the women in your life? How are you celebrating/observing International Women's Day?
This International Women's day I'm reflecting on and deeply missing one of the most impactful women in my life… my best friend Sonya, who passed away from cervical cancer (a uniquely women's disease) in November. So I am showing support and appreciation to her two beautiful daughters and to all who loved her. And I will never take for granted all the strong, resilient and fabulous women who are in my life; my Mum, sisters, daughter, friends & CP colleagues. 
Mary McMahon
Group Strategy Director
Dublin
---
Look back at the little girl you once were. What is something that you'd like to tell her? 
I would tell the little girl that I once was that hard work, determination, and passion are the three essential components to creating longevity in your career and fostering a work environment that feels equal parts rewarding and exciting. Believe in the power of manifestation. Not everyone is going to like you or believe in what you do, so be your best advocate and trust in yourself and your abilities. Write down your career-defining moments and the compliments that you receive along the way, so you can look back on them when you need an extra boost or reminder that you are good at what you do! I would also remind her that there will be adversaries along the way, but it's important to stay resilient and positive. Lastly, I would advise her to prioritize self-care and never forget to take time for herself and her loved ones amidst her busy career. Life is short…enjoy it. 
Alyssa Stevens
Director of Public Relations & Social Media
Boston
---
What does International Women's Day mean to you?
Marking a specific day in honour of International Women's Day is an inspiring reminder that gender inequality is still prevalent and that much work still needs to be done to achieve balance. Personally, the day acts as an extra nudge for me to ensure that as a senior leader, I continue to play a role in moving our working environments forward and achieving gender parity so that the women that come after me do not have to face the same challenges that I have had to.  
In truth, the week leading up to and after also has me fired up as I read never-ending stories of unjust discrepancies between men and women. At times shocking and at times deflating, it is also inspiring to witness how many of us are intentionally and meaningfully creating change. I do strongly believe that this change also needs to occur multi-generationally – there must be a focus to educate children, both female AND male about gender parity and what they can do to shift the future. Here is an oldie but a goodie that I like to share to illustrate this.
Nadine Cole
President, VRX Studios
Vancouver