Back
September 22, 2023 / CPOVs
CP Abroad With Abby Peterson
Abby Peterson, Associate Creative Director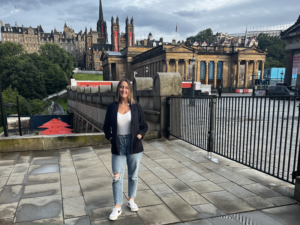 There are plenty of sayings about routine being the enemy of creativity – like that exact quote from Isaac Asimov – but what about the routine you fall into and don't even realize you're in? That has to be the worst creative killer of all.
The CP Abroad experience was an incredible way for me to break from my routine and rethink the way I think as a creative.
"One way to get the most out of life is to look upon it as an adventure." – William Feather
When I'm traveling, I'm the type of person who wants to make the most out of every second I spend somewhere. I'm making Google Docs with all of my plans, researching restaurants and pinning them to maps, planning excursions I would never attempt to fit into my schedule at home.
I find a parallel with my creative expression – I want to plan and control it, execute exactly what I have in my mind. But when I'm actually doing it, I find myself exploring and am always surprised by where I end up. 
The benefit to the CP Abroad experience, for me, was embracing my type-A planning persona, while also living and working like a normal human being. I completely changed the way I'm used to working at home so that I could maximize my time exploring new places and leaving myself the opportunity to be surprised and spontaneous. 
"Surprised!" Painting by Henri Rousseau, National Gallery of London; Copenhagen; Amsterdam
I took in as much art, architecture and history as I could. I visited 5 countries – Scotland, Ireland, England, the Netherlands and Denmark, each different in their personality and culture.
I went all over Ireland and drank in its history. I drove to Northern Ireland and learned from locals there the fascinating (recent) history of the Belfast troubles. I went west to the Dingle Peninsula and saw great surf, forts from the 6th century and held a baby lamb. I drove from Galway to the harbor and took a ferry to the remote Aran Island Inisheer and hiked along the tops of the Cliffs of Moher. 
I did things I never would have thought about at home – like flying a falcon on the rocky shores of Ireland. Or drive on the left side under a rainbow on narrow country roads. Or get a spontaneous tattoo I based loosely off my favorite branding from my favorite Irish Stout…
International travel has a way of engaging the senses in unique ways, from tasting unfamiliar foods to seeing breathtaking landscapes to hearing different music and foreign languages. I found myself constantly inspired, and reinvigorated creatively.
"A person who does the same things each day will not grow, change, or learn as much as a person who constantly seeks out new experiences." – Karen Salmansohn
Before I left for Ireland, I often found myself asking, "how did I ever do everything I did in one day before Covid?" I had a routine to provide stability and structure but left myself open to new experiences to continue growing, learning, and finding creative inspiration in life. (I was also younger and didn't have a dog to take care of, but that's beside the point…) It's made me come home with a fresh perspective on my life and my own city – I want to experience it and be inspired every day, in ways I never have been before.
"To live is the rarest thing in the world. Most people exist, that is all." – Oscar Wilde
Cliffs of Moher