Back
October 12, 2022 / CPOVs
CP Abroad With Megan Canoni
Megan Canoni, Assistant Media Planner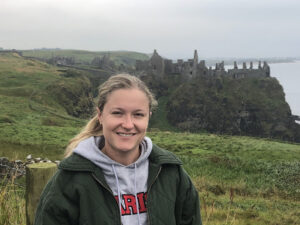 In September, I left Boston for Ireland and in a span of thirty days, I was able to experience famous landmarks, travel to four different countries, and meet so many fun and unique people from around the world. Here is a glimpse into my experience of CP Abroad in Dublin.
I spent my first week in Dublin, getting situated and exploring all the city had to offer. I visited the Guinness Storehouse, Trinity College and many different museums. Outside of  Dublin, I explored other areas of Ireland on day trips to Belfast and Kilkenny, where I got to witness the history and nature of Ireland that make the country so unique. 
My first weekend trip away from Ireland was to Edinburg, Scotland. The city was a quaint, magical place that was filled with streets of cobblestone and small, family-owned shops.It truly felt like something out of a fairytale. During my time there, I experienced a piece of history as I witnessed Queen Elizabeth II's funeral proceedings occur throughout Edinburgh. The moment was a unifying experience, as people from many different countries gathered to witness this historic moment. 
My next daring adventure was in Barcelona, Spain. Scuba diving is something that has always been on my bucket list, and here I was able to cross that thrilling experience off the list! Being able to swim in the Mediterranean Sea, visit the beautiful Familia Sagrada, and explore the city on a Tapas tour, are just some of the experiences that gave me a better understanding of the history and culture of Barcelona.
The final trip I took was to Reykjavik, Iceland. Out of all of the countries I visited, Iceland was unlike anything I have seen before. There were volcanoes, waterfalls and even glaciers. I was lucky enough to go on a glacier hike. It was amazing to be able to explore something so breathtaking.
Although I spent my weekends traveling, I spent my weekdays working at our Dublin office. Everyone in the office was extremely friendly and welcoming, which gave me the ability to interact with co-workers that I would not have gotten the opportunity to do otherwise. Collaboration is a large part of CP culture and getting the opportunity to interact with others from different backgrounds has helped me gain a more holistic view of the world. 
After all my traveling and living in a new country, I learned that the world is so much bigger than myself. It's filled with so many different people, experiences, and perspectives that I have yet to witness. The CP Abroad Program gave me the opportunity to experience just a little bit of that.